Want to sync certain events from a personal to a work Google Calendar without manually inviting it each time? Learn how a Zapier workflow may be the answer in this easy to read, practical article.
So last week I outlined a way to use Google Calendar, Google Sheets and Zapier to export Google Calendar events for time tracking purposes. This week, I want to show you a way to keep a personal Google Calendar and a work Google Calendar updated through a Zapier workflow.
But why would you be interested in automating this? After all, it's easy enough to share your personal calendar with your work calendar and have your events show up 'over there' so that people don't double-book you.
But presumably you don't want every personal event to show up on your work calendar, and it can be painful and time consuming (as well as kind of weird) to manually invite your work calendar to certain personal events.
And then of course you need to remember to mark those events as private in your work calendar if you don't want colleagues seeing all your personal appointments. It just seems like such a lot of effort…
Enter the wonderful world of Zapier and automated workflows!
What or Who is Zapier?
Why do I need to worry about cyber security? I'm just a sole trader!
What is a password manager and why do I need one?
First, if you're not familiar with Zapier it is online software that allows you to create automated workflows without writing any code. These can range from very simple (think sending a tweet and then having that tweet saved automatically in a Google Sheet); to quite complicated (think automatically adding details from an email to a Google Sheet that then creates a Google Calendar event and perhaps also creates a task).
Step One: Creating an account with Zapier
You'll need to create an account with Zapier before you can do anything. You can log in using your Google account – providing your Google Workspace admin has not turned off that functionality! Otherwise you can use Facebook or even good old-fashioned email and passphrase.
When you create an account with Zapier you'll be placed on a 14 day free trial of their premium features. At the end of that trial, if you don't update your billing details you'll be downgraded to the free version of Zapier which should be fine for the majority of small business owners.
The biggest limitation with the free version is that it only allows for 5 'Zaps' (a Zap is one workflow) and 100 tasks (a task is counted every time a Zap successfully moves data or takes action for you) per month.
This particular Zap will use 1 task every time it creates a Google Calendar event, so if you need to track more than 100 events (or you're using multiple Zaps) you may need to upgrade to a paid plan.
Step Two: Creating the Zap
I've created a Zapier template for you that will create a Private event in your work Google calendar whenever you create an event in your personal Google calendar with the term 'office' in its description.
Note: as you go through setting this up you'll be required to connect both your personal and your work Google Calendar accounts. Be aware that this will allow Zapier to for example "See, edit, share, and permanently delete all the calendars you can access using Google Calendar". If you're in an industry with strong privacy requirements then make sure you're comfortable with Zapier's privacy policy etc. before continuing.
Getting Started:
Click on Try this Zap
Click on the exclamation mark
Click on Choose an account and make sure you connect your personal Google account.

Click on Continue
Click on Choose value and select the appropriate calendar from the drop down. You can choose your main calendar or any secondary calendar that you like.
You can keep the search term that I've put in, or overwrite with any term you'd like to use. It should be something that's different enough that you'll only be adding it to events that you want added to your work calendar.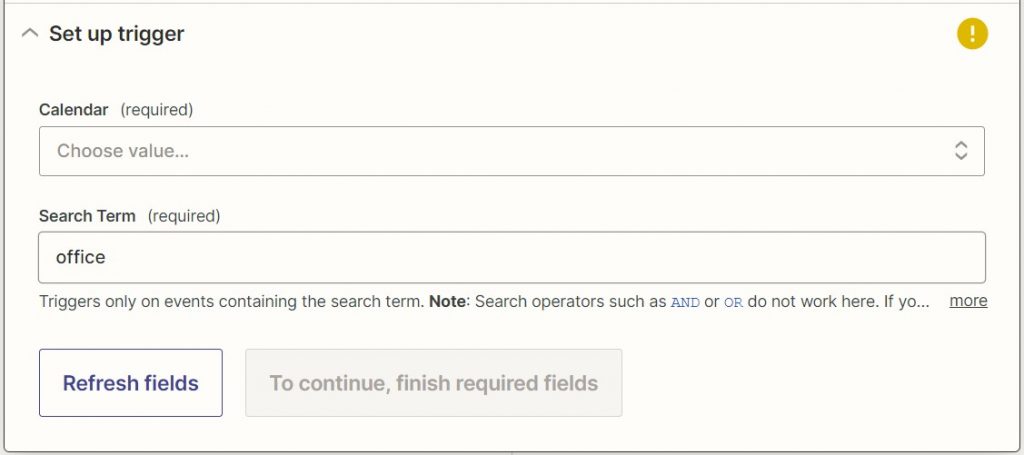 Click Continue and then Test Trigger
Zapier will now try to find an event that has that search term, in the Calendar that you connected and will fail! This is completely normal and exactly what we want to see.
Switch over to your Google Calendar and create an event (make sure you include the search terms! It doesn't have to be the exact same term as per Zapier – office in the event description for example will work even if you've put [office] in Zapier.)
Switch back to Zapier and click on Try Again. Once this runs correctly, click on Continue.
Click on Choose an account and make sure you connect your work Google account this time.
Click on Continue.
Click on Choose value and select the appropriate calendar from the drop down. You can choose your main calendar or any secondary calendar that you like.

I've pre-added some fields to the Zap, but feel free to add any additional ones that make sense for your situation.

Click on Continue.
Click on Test and Continue.
Step Three: Turn it on and enjoy the automagic
Before going any further switch over to your work Google Calendar and confirm that the personal event is there and that you're happy with the way it looks. If you've got the opportunity, ask a co-worker to take a look at your calendar and confirm that they can't see details, just that you're busy at that time.
If you're happy with the way the Zap works then switch back to the Zapier tab and click on Publish Zap / Publish & Turn On.
Yay! Now you've got a way to automatically add select events (that contain a specific term in the event description) from your personal Google Calendar to your work Google Calendar.
Note: events added by this Zap are completely separate to the original event. Changes made to the original event on the personal calendar won't update on the work calendar.
Keep multiple Google calendars updated with Zapier