There are thousands of email hosts on the market. But when it comes down to serious business email hosting, you can really narrow it down to these three providers: Google Workspace, Office 365, and Zoho. So below we'll do a little comparison.
Pricing
For pricing, we are taking the monthly cost from each provider.
| | | |
| --- | --- | --- |
| Google Workspace Business Starter | Office 365 Business Essentials | Zoho Standard |
| $6/user/month | $6/user/month | $4/user/month |
Additional notes:
Some do offer slightly cheaper plans if you commit to their annual plans or purchase licenses in bulk. For example, you can get Office 365 down to $5 /user/month and Zoho down to $3/user/month.
Zoho does, in fact, have a free plan for 5 users. However, it is limited to 5GB with single domain hosting.
It's important to note that Office 365 Business Essentials doesn't include their Office desktop software, only their web-based apps.
Software and Tools
Below are comparable products across providers.
| | | |
| --- | --- | --- |
| Google Workspace Business Starter | Office 365 Business Essentials | Zoho Standard |
| Gmail | Outlook (50GB) | Zoho Mail |
| Google Drive (30GB) | OneDrive (1TB) | Zoho Docs (30GB) |
| Google Docs | Microsoft Word | Zoho Writer |
| Google Sheets | Microsoft Excel | Zoho Sheet |
| Google Slides | Microsoft PowerPoint | Zoho Show |
| Google Sites | Sites (SharePoint) | Zoho Sites |
| Google Meet/Chat | Skype + Microsoft Teams | Zoho Meeting + Cliq |
| Google Keep | Microsoft OneNote | Zoho Notebook |
| | Microsoft Yammer | Zoho Connect |
Additional notes:
Google Workspace's 30GB of storage is counted as combined storage across Google Drive and Gmail.
Zoho's 30GB of storage is counted as combined storage across Zoho Docs and Zoho Mail.
If you're comparing presentation software, Microsoft PowerPoint still probably wins hands down.
Gmail also has a lot better integrations with third-party add-ons and extensions than that of its counterpart Outlook.
Zoho supports external integrations with various third-party apps within your mailbox using eWidget.
But as you can see, all three of the above providers have very similar offerings when it comes to the tools and services they provide. So a lot of your decision will probably come down to price and ease of use for your employees.
Disadvantages of Google Workspace
To be completely honest, there aren't many disadvantages that we've found using Google Workspace, and our team has used it for over four years. Although it definitely depends on the type of business you are. Here are a few things you might consider:
Google Workspace is entirely web-based with no options for software. If you're used to using Microsoft Office you'll probably find that Google Docs and Sheets aren't as powerful.
Office 365 is still winning the enterprise market, while Google Workspace is still playing catch up.
Office 365 does offer more storage off the bat. However, Google Workspace does offer unlimited storage if you upgrade to higher plans.
How to Move to Google Workspace
We personally think that Google Workspace is your best option for email hosting and other tools, and that's why we recommend it to all of our clients. They also offer a free 14-day trial, so you can even give it a try before committing to anything. Their onboarding process is also incredibly easy.
Here are some quick steps to get started with Google Workspace for your business:
Step 1
Sign up for your free trial.
Step 2
Activate your account by signing into your Google Admin Console. (Note: Sign in with your Google Workspace email address and password. (This address ends with @yourbusiness.com, and isn't a @gmail or personal Google Account.)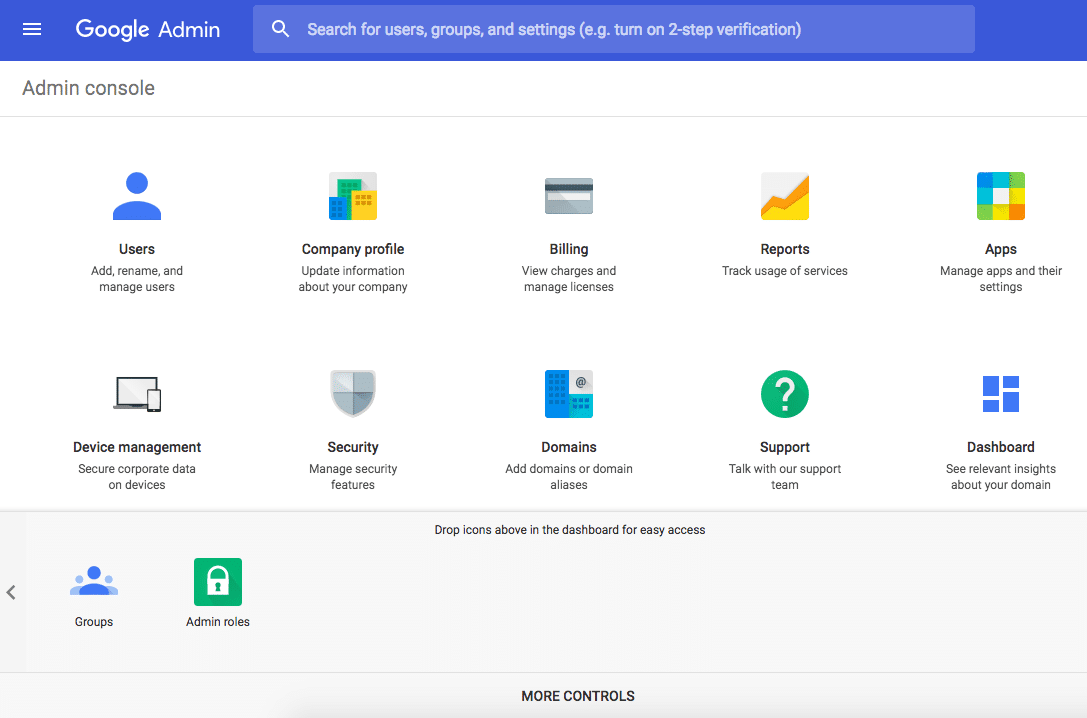 Step 3
In the Admin console, click "Start Setup" to launch the setup wizard. You'll give each team member an email address at your domain (like john@yourbusiness.com), so they can start using Gmail, Calendar, Meet, and all the other Google Workspace services. You can also manually add additional users at any time.
If you have additional domains, you can also add them or create email aliases.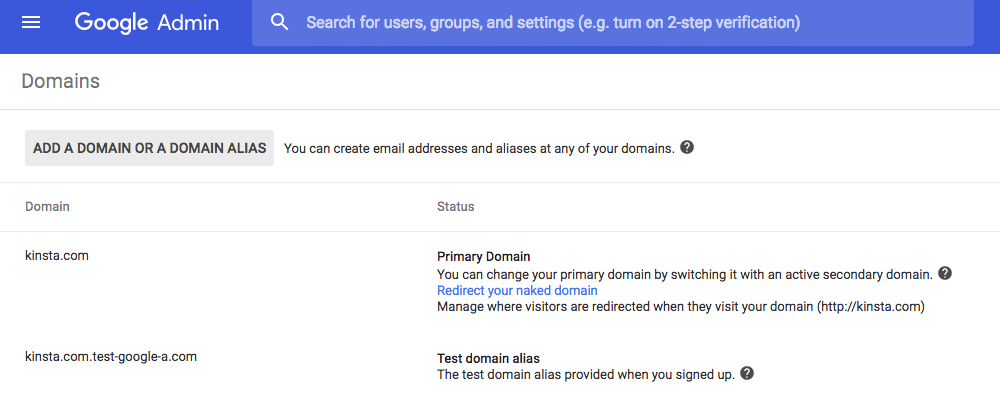 Step 4
In your Admin console, you'll then need to follow the steps to verify that you own your domain. You'll get a verification code to add to your website or your domain settings. Google Workspace has excellent instructions for literally every DNS registrar and DNS provider on how to verify your domain.
If you're using Kinsta DNS, we also have a tutorial on how to add your Google MX records in our MyKinsta dashboard. When creating your domain, you can add the records with a single click.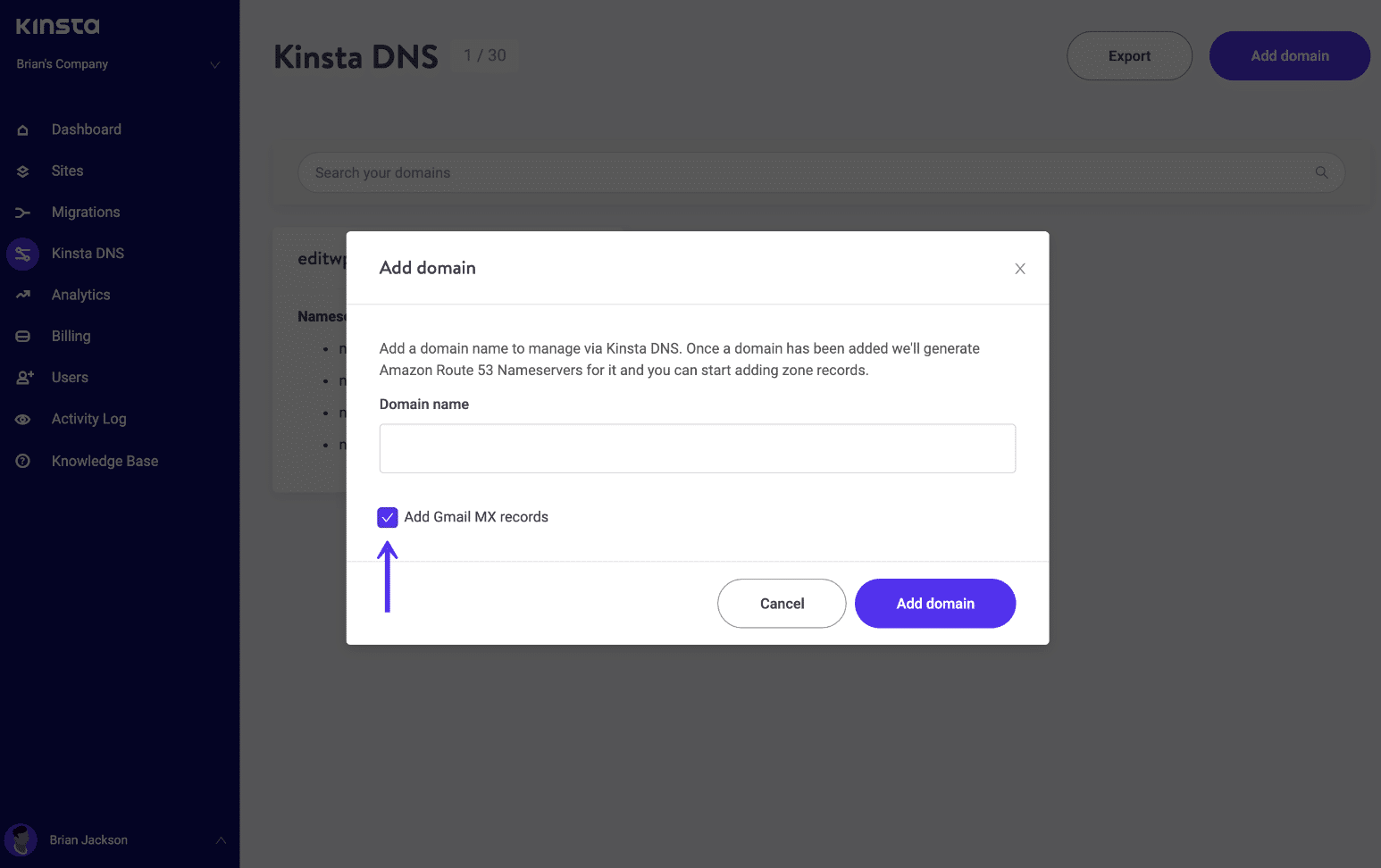 If you're coming from another email host, such as GoDaddy, BlueHost, OVH or Office 365, you'll most likely also want to migrate your old emails over. Here are some helpful links:
Note: If you're just starting to use email for your business for the first time, you can skip the above migration process.
Step 5
The final step is to then follow Google Workspace's quick start guides for setting up the additional apps, such as Google Drive, Google Calendar, Google Contacts, etc. And that's it!
Google Workspace Tips
After Google Workspace is up and going there are a few little warnings or errors you'll probably run into. One is the following message when trying to save a profile photo.
Sorry! We could not save your profile photo. Please try again later.
In Google Workspace the admin has to give permission for users to save a profile photo. This can be done from "Directory → Directory settings → Profile editing."
Check the "Photo" option and hit "Save."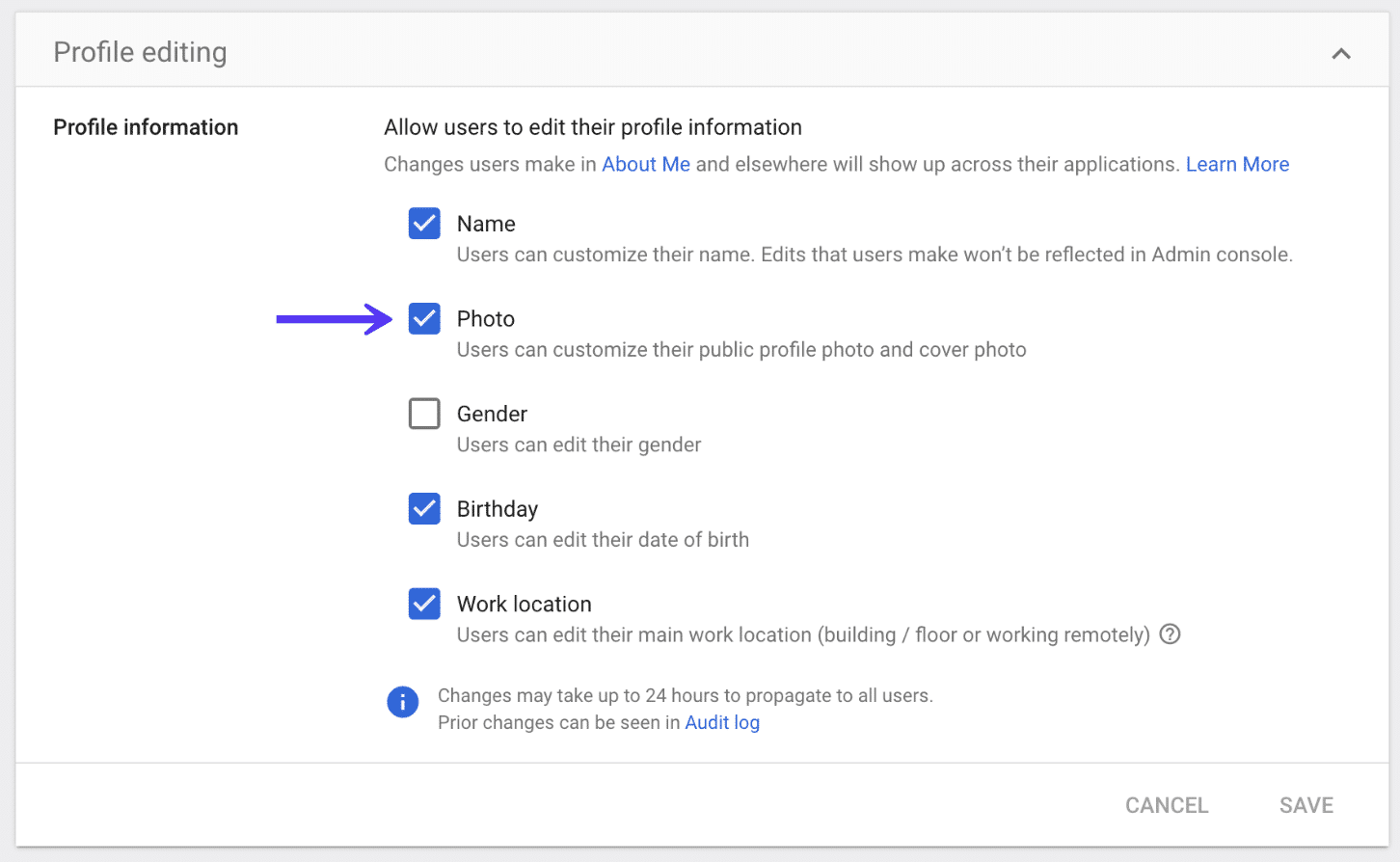 Note: It usually takes a couple of hours for Google Workspace settings to propagate across. So we recommend waiting a bit before trying to upload a photo again.
Summary
Unparalleled Benefits of Google Workspace
The Benefits of Google Workspace formerly G Suite for Your Business Why We Use It
As you can see, Google Workspace can be a great solution for any business when it comes to email hosting and providing an all-in-one solution for document collaboration and storage. It's extremely affordable and easy to use. Most of your employees are probably already familiar with Gmail, which helps reduce the time required to learn new tools.
If you're just getting starting with Google Workspace, we recommend subscribing to their blog to keep up to date with new features and releases. Do you have any questions about Google Workspace or how it works? We'd love to hear what you prefer when it comes to email hosting. Let us know below in the comments.
Google Workspace vs Office 365 vs Zoho